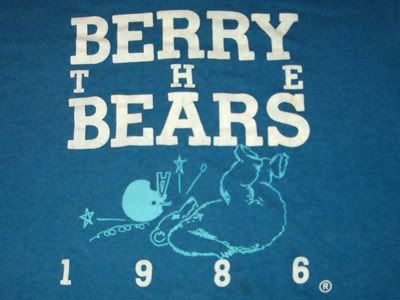 Brady didn't Berry the Bears, he buried them! No more will Jim McMahon's ill-timed tap to "The Super Bowl Shuffle" haunt my head. The highlight I have now is Thom Brady's sidestep of that bridge troll Brian Urlacher. And, I think we finally solved the problem our new kicker Stephen "The Ghost Cow" Gostkowski was having: Give him two tries. At the end of the first half Ghost Cow missed a 52-yard field goal but got another try because Chicago had called timeout at the last second. He made it the second time by a hair. Thus, the legend of "Second Chance Ghost Cow" was born.

Two straight wins and the Patsies seem to be back on track. If they could just cure their case of the fumbles we might have a fun playoffs this year, especially with Jake " The Snake" Plummer out of the way in Denver. He is the only quarterback to beat the Patsies in the playoffs in the Belichick era. Bring on Jay "The Butler" Cutler!

And speaking of fun, only two more weeks 'til our Spaceman and Steamers event. Tuesday, December 12th we'll be screening "Spaceman: A Baseball Odyssey", a film about former Red Sox pitcher Bill Lee's life in baseball. Scheduled to attend is film maker Brett Rapkin who made the documentary and Bill Lee himself who will be celebrating his 60th birthday. But, we don't serve popcorn with a movie,we'll be steaming up some clams and pouring Spaceman Ale by Magic Hat, brewed specifically for this event. Proceeds from the Spaceman Ale and autographed items available in raffles will be going to The Jimmy Fund. So, come out to a bar, drink beer, eat clams, and watch a movie for a good cause. We'll even let you talk politics this once.

Check out The Spaceman's views on the Pres.

Oh, my name is Raymond Berry and I'm the leader of the Pats.
Ask Dan Marino if we're still a team of old door mats.
We're rough, we're tough.
We're lean, we're mean.
We're hungry, that's a fact.
Chicago will go down my friends to Raymond Berry's Pats.
-Bruce & The Benchwarmers