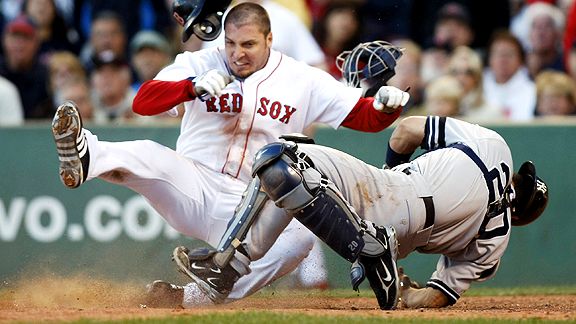 This is
big
. Really
big
. Like
Tron big
. Yeah, that's it, Tron big. It's a lot of bling and build-up and TV special effects, which ultimately will give way to a hackneyed storyline. No, it's not Senior Tiger Blood's Charlie Sheen Circus. I'm talking about
Red Sox versus Yankees
in a game I like to call "Spring Training". And you can see it all tomorrow night at Thom's.
Think of all of the money you saved by not schlepping down to boring, sunny Florida for this otherwise meaningless game. So, come to Thom's tomorrow and spend some or all of that money! Yeah! Meaningless? Who said meaningless? This is a blood feud. Come to Thom's and get your drink on and get angry. 'Member what they did to us that time? Me too! It is on! Oh man, it is on. It may not be the first game of the year, but it's the first one that matters. See you there.
Who wrote the book of love?
Harvey Frommer
did. Didn't you know? Oh yeah. A few days ago the long awaited release of "
Remembering Fenway Park
" finally happened. Now you can own a book brave enough to feature both me and Triviamaster John Quinn among its interviewees. All Tron aside, this book is great and dang purty. The pre-sale price is still good
on Amazon
, so snatch it up while you have a chance. Harvey will be at the bar in a couple months to sign your copy and talk about the book.
Tell me, tell me, tell me
Oh, who wrote the Book Of Love
I've got to know the answer
Was it someone from above
(Oh, I wonder, wonder who, mmbadoo-ooh, who)
(Who wrote the Book Of Love)
-Warren Davis, George Malone and Charles Patrick