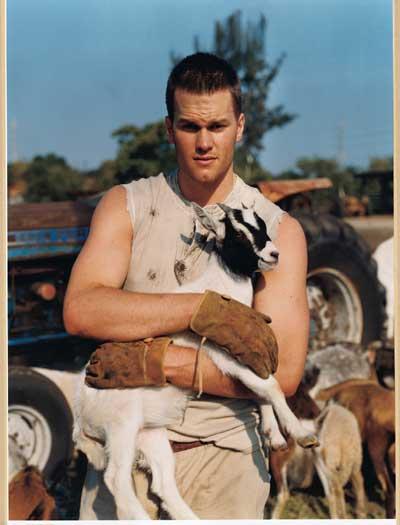 As if spygate wasn't enough, the Patsies are again up to their wicked ways. This time Tom Terrific is
taking it on the chin
for cheating. The league has decided to punish the greatest QB ever for not fastening his
chin strap
. The Commissioner stated: "Everybody knows that when Tom Brady leaves his chin strap unbuckled
he looks cool
in a
swashbuckling
manner. It's
distracting
to opposing defenders and provides the Patriots with an unfair competitive advantage." The Commissioner went on to say that his office was considering banning the glint in his eye if other teams registered complaints thereof.
Rivals of the Patriots are up in arms over what they see as another meaningless punishment. Tom Brady will have to pay a fine of $4 million, 3 touchdowns, and 2 fingers (his choice). He will have the dimple on his chin
spackled
. In addition, the Patriots will have to give one receiver to each of the other AFC East teams and Brady will lose visitation rights for the baby he had out of wedlock with actress Bridget Moynihan. Brady has also agreed to throw at least one interception per game for the rest of the season and pledges not to challenge Pedigree Manning's holy TD record.
Manning
supported the decision: "He's dreamy. Everyone knows it. He shouldn't be allowed to flaunt it on the field. He's been warned numerous times by the league."
The
Patriots
(6-0) take on
Miami
(0-6) at 1:00 Sunday.
In other news, it's going to be a big weekend at Thom's. Get there early for your seats on Saturday to watch the Sox return to Fenway for game 6 of the ALCS. Then on Sunday the Sox try to close out the Tribe and head to the World Series against the rested Rockies.
Hey! I'm only fourteen
Sickly 'n' thin
Tried all of my life
Just to grow me a chin
It popped out once
But my dad pushed it in
Why did he hurt me?
He's my next of kin...
He's a mex-i-kin
-Frank Zappa