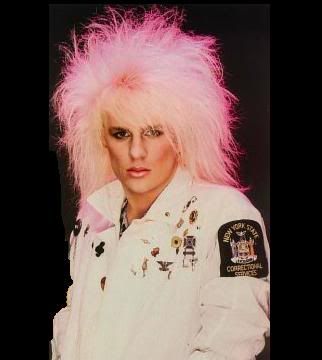 On Monday the New York Yankees asked the city for
more money
in tax exempt bonds and yesterday, they began to spend it. C.C. "
Creamed Corn
" Sabathia, last year's half season Cy Young will be signing the largest contract for a pitcher ever when he agrees to a
$161 million deal
with the Yankees.
When asked if the timing was right to make such an expensive buy in this down economy Yankees G.M.
Brian Cashman
answered, "There's a pitcher that's been on my mind-all the time: C.C. Sabathia." The Yankees' G.M.'s fascination with the the porcine pitcher led to a chance meeting this week in Las Vegas when "Creamed Corn" bumped into Cashman in the steam room at
the Bellagio
. C.C. didn't recognize the G.M. right away. Said Cashman, "Now he didn't even know my name, but I think he liked me just the same: C.C. Sabathia." Cashman was rebuffed at first by the burly hurler, but he pressed on "Ooh give me a chance, give me a sign, I'll show her anytime, C.C Sabathia oh oh." Confused at first by the strangely gender-mixed offer the stout starter Sabathia focused on the ridiculous paycheck and relented. "It's not about the money." said C.C. "It's about the 30
burger bag
at White Castle."
Not to be outdone by the Yankees' celebrity splash,
the Mets
signed
a Putz
for their bullpen, again. (I can't wait for the headlines, oy!)
But, what new for the Olde Towne Team? Feeling like their losing the headlines to their pin-striped rivals the Sox announced that they would go to a bar tonight and reveal
a new logo
. Wow. Take that Yankees. The Sox now have a pointier "B" and the MVP to boot. When asked why the Red Sox showed no apparent interest in pursuing the corpulent curveballer Sabathia, GM Theo Epstein said, "Oh, if he called me I'd be there, I'd come running anywhere-C.C. Sabathia." (For real updates check out Bob Lobel's new radio show on
Sawxheads
.)
And, what does the man on the street think?
Paul "Fitzy" Fitzgerald
has spent a great deal of his life on the street (tsk tsk). On the signing he commented, "At a little more than half a million a pound that's some expensive cheese the Yanks just bought." Good for you, Fitzy.
Well, enough ballyhoo, what about the bar? Tonight the 20-2
Boston Celtics
take on the Washington Wizards. We've extended our Sox
beer special
to the Celts and Bruins too.
Next Thursday
we'll be unveiling the newest in the line of Harpoon Leviathan beers:
Baltic Porter
. This beer is a heavy hitter at 9.5% and won't last long. Come on in and have it and a few clams. We might even have a few give-aways.
The Rice countdown is on. In his 15th year on the ballot,
Jim Rice seems to have his best chance
to get accepted into the Baseball Hall of Fame. The results will be announced
Jan 12
.
Thommies in the News

Check out Thom's regular and RSN cabinet member
Rick Field
talking about his pickle with
Martha Stewart.
Yeaaaaaaaaaaaaaaaaaaaaaaaaah!

Meet the new boss

Same as the old boss

-Brian Cashman